Why is 'food security' sparking unrest?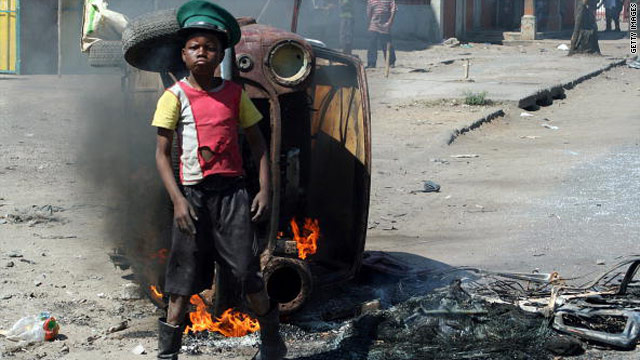 Hong Kong, China (CNN) -- While nations debate what to do about long-term problems such as climate change and dwindling water supplies, two words send immediate shivers down the spines of government officials across the world: Food security.

A series of environmental disasters fueling a wave of food price volatility has given governments, "a much needed wakeup call," said Abdolreza Abbassian, an economist for the United Nation's Security of Intergovernmental Group on Grains.

The UN's Food and Agricultural Organization will be holding a special meeting to discuss the issue and the recent volatility in Rome on September 24.

The meeting was called after Russia decided to ban wheat exports after a punishing drought wiped out 25 percent of its crop. Moscow's decision pushed food prices up about 5 percent worldwide. Bread prices surged in some countries and triggered the deadly riots in Mozambique.

Massive floods in Pakistan also caused huge losses to the country's crops, adding to the uncertainty in the markets.

"The pace in which prices went up, nobody predicted markets could turn so fast," said Abbassian. "It's been two months and we're still struggling with it."

United Nations
Food security, in simple terms, is defined by the United Nations as food being available in sufficient quantities to reliably feed a nation's population.

Market volatility is nothing new, especially when it comes to commodities. During the food crisis of 2007-2008, prices spiked dramatically: Rice surged more than 200 percent; wheat and corn jumped more than 100 percent. The cause continues to be debated, but the effects led to protests and deadly riots from Haiti to Mogadishu.

But the current market conditions are very different from a few years ago, said Hafez Ghanem, the FAO's assistant director-general for economic and social development.

"(I)n the years ahead we'll probably be seeing more of the turbulence we're experiencing now because markets are set to become more volatile in the medium term for at least three reasons: a) the growing importance as a cereal producer of the Black Sea region, where yields fluctuate greatly from one season to the next; b) the expected increase of extreme weather events linked to climate change; and c) the growing importance of non-commercial actors in commodities markets," Ghanem said in an interview posted on the UN Food and Agricultural Organization website.

If the next few years could be more volatile, the next few decades could be downright frightening.

"The most urgent issue confronting humanity in the next 50 years is not climate change or the financial crisis, it is whether we can achieve and sustain such a harvest," said Julian Cribb, scientist and author of "The Coming Famine."

The UN predicts that by the year 2050 the globe will be home to more than 9 billion people. In a recent presentation to The World Congress of Soil Science, Cribb said global demand for food is going to more than double over the next half century.

In a worst-case scenario, Cribb describes a world where famine has broken out in several locations, leading to wars and hundreds of millions of refugees wandering the globe looking for food and shelter. That scenario is avoidable, he said, as long as governments make policy changes in their approach toward agriculture.

"First, we need to recognize that investment in agriculture is defense spending," Cribb said Thursday. "If we want to prevent wars and refugees and a food crises, then we need to renew global investment in agriculture and agriculture science. Agriculture has been a low priority for the last quarter century."

Recent efforts by BHP Billiton to acquire Canadian fertilizer company Potash Corp. were viewed as the Australian miner's attempt to cash in on the growing importance of the agriculture industry. Chinese companies have also expressed interest in Potash as they try to secure fertilizer supplies for their own agriculture market.

Famed investor and author of the "Gloom Boom and Doom" report, Marc Faber has appeared on CNN telling viewers the best long-term investment today is farmland and a focus on stocks that may benefit from food and water shortages.

Cribb said unlike most other countries, China is aware of the potential risk to food security and has been taking steps to ensure it is prepared. That includes coming up with domestic policies to secure water supplies. But Beijing is also looking outside China by securing agricultural supplies in other regions, such as Africa.

"We have to reinvent the way we grow food and reinvent our diet if we are to sustain the food supply through the peak in human numbers and demand," said Cribb.

That is the challenge facing world leaders.

So, at the upcoming meeting in Rome, Abbassian said he plans to ask every government delegate attending a simple question: "Are you preparing yourself for food security?"

http://www.cnn.com/2010/BUSINESS/09/22/un.food.security.poverty/

World Bank urges nations to avoid food export bans
(excerpt)
WASHINGTON (Reuters) - The World Bank on Monday urged countries to refrain from imposing policies that could trigger a new global food price crisis as drought-hit Russia said it could extend a grain export ban into next year.

World Bank Managing Director Ngozi Okonjo-Iweala told Reuters the sharp spike in grain prices since last week did not amount to a crisis yet, but emphasized increased food price volatility would hurt poorer countries.

She said the poverty-fighting institution would activate a food fund when the World Bank board, currently in recess, reconvened in early September in case the situation worsened.

Grain prices have soared since last week after Russia, the world's No. 3 wheat producer in 2009/10, banned grain exports as the worst drought on record ravaged crops across the Black Sea region and concerns grew about supplies from dry weather in Western Australia.

In Ukraine, the world's sixth-largest wheat exporter, grain exports are facing delays after the introduction of a new system of customs controls last week, while bad weather there could cut crop and exports forecasts.

Okonjo-Iweala said the World Bank was conducting a survey of vulnerable countries amid reports that exporters had cancelled wheat contracts to Bangladesh and were reviewing contracted wheat supplies to Egypt, the world's largest wheat importer.

She said flooding in India, Pakistan and China had also raised food supply concerns.

"We don't see a crisis yet and are hoping to head it off by asking countries not to undertake policies that will precipitate a crisis," she said in an interview.
...

http://af.reuters.com/article/topNews/idAFJOE67905I20100810
Not only food but metal are being manipulated also.
China: Rare earth export cuts protect environment
China's decision to slash export quotas of rare earth elements was a necessary step to protect the country's environment, commerce minister Chen Deming said following criticism from Japanese officials. "Mass extraction of rare earth will cause great damage to the environment and that's why China has tightened controls over rare earth production, exploration and trade," Chen was quoted by state news agency Xinhua as saying on Saturday.

China issued export quotas for 30,258 tonnes by the end of July, down 40 percent compared to last year, following a nationwide campaign to consolidate the sector and clamp down on illegal production. China has been steadily reducing export quotas since 2005 for rare earth elements, which consist of 17 metals used in crucial new green technologies like hybrid cars, wind turbines and superconductors, as well as in missile guidance systems and mobile phones.

Overseas buyers have expressed concern about China's policies to restrict rare earth exports, which have driven up global prices, but Chen said China had no choice and its own market would also suffer as a consequence. Rare earths are in increasingly short supply as world demand surges, with industry officials predicting a global shortfall of 30,000 to 50,000 tonnes by 2012.

China invested heavily in rare earth extraction technology in the 1990s and now controls more than 95 percent of recoverable reserves, mostly in the vast northern region of Inner Mongolia. It has sought to strengthen its control over the global market, urging its biggest producer, the Inner Mongolia Baotou Steel Rare Earth 6000111.SS to build strategic stockpiles. China's leading rare earth miners are also discussing setting a unified pricing mechanism in order to boost China's global pricing power.

Source:
http://af.reuters.com/article/energyOilNews/idAFTOE67S00A20100829

http://www.optimumpopulation.org/blog/?p=2816


Forcing children to eat can have lasting impact
When WTOP News Director Mike McMearty was a child, he couldn't stomach what he refers to as the dreaded "Bs" -- beets, brussels sprouts and lima beans.
"My parents forced me to eat them. I said I didn't like them and I threw up all over the table."

He's been able to reconcile his distaste for two of the three, but he still hates lima beans.

He isn't the only one.

New research shows that an aversion to food can often stem from a childhood experiences that carry over into adulthood.

Much of what adults think about food is established between infancy and age six, according to experts at the New Realities Eating Disorders Recovery Centre in Ontario, Canada.

And it doesn't necessarily have to do with eating; a particularly harsh teacher who smells like onions might lead to an aversion to that food.

Experts recommend self-coaching and a lot of repetition for overcoming nutritional dislikes. The key is acknowledging emotions paired with a particular food, they say.

McMearty also isn't the only WTOP staffer with a lasting abhorrence.

"If it was green, I hated it," says Morning Anchor Mike Moss, adding that he'd hide his vegetables under potato skins and pieces of chicken.

"Or I'd sneak it to the dog."

As a kid, Anchor Mark Lewis turned his nose up to squash.

"Yellow was nasty. It seemed disgusting. I like it now," Lewis says.

Lewis also couldn't stomach brussels sprouts.

Moss' fellow anchor Bruce Alan doesn't see what all the fuss is about.

"I actually like brussels sprouts," Alan says.

But a little more prodding uncovers Alan's hidden past -- what Web Editor Colleen Kelleher describes as "the liver look."

"Yuck, liver."

http://wtop.com/?nid=456&sid=2065291